HR strategy

In 2019 a formal IIASA people strategy, Creating a working environment for success – a Human Resources (HR) framework was adopted by the IIASA Council.
This strategy details initiatives for creating an enabling environment that reaffirms IIASA as an institute of choice for researchers from around the world.
The Human Resources department will monitor the progress of the institute in both delivering and living the people strategy by regularly measuring its success. This will include an annual review of the goals and operational plan, and collating metrics through staff climate surveys.
Diversity and equality
Many of the characteristics that make IIASA unique, as articulated in its Charter, also present challenges for both the attractiveness of IIASA as a place to work and for the retention of high-quality employees. IIASA's internationality, while being a distinct advantage, also raises challenges in terms of managing cultural, social, and geographic diversity.
In 2019 the process to document a formal Diversity and Equality policy commenced. The Human Resources department will consult with stakeholders during 2020, before the policy is finalized in the IIASA Handbook.
At the heart of any modern organization and its people is a set of well-defined values. Shared values define what we stand for as employees, as an employer, as an organization and as a research institute. They underpin how we carry out our work and how we work with each other. They shape our culture and enable us to work together to achieve our wider vision. In 2019, IIASA developed the ASPIRE values concept: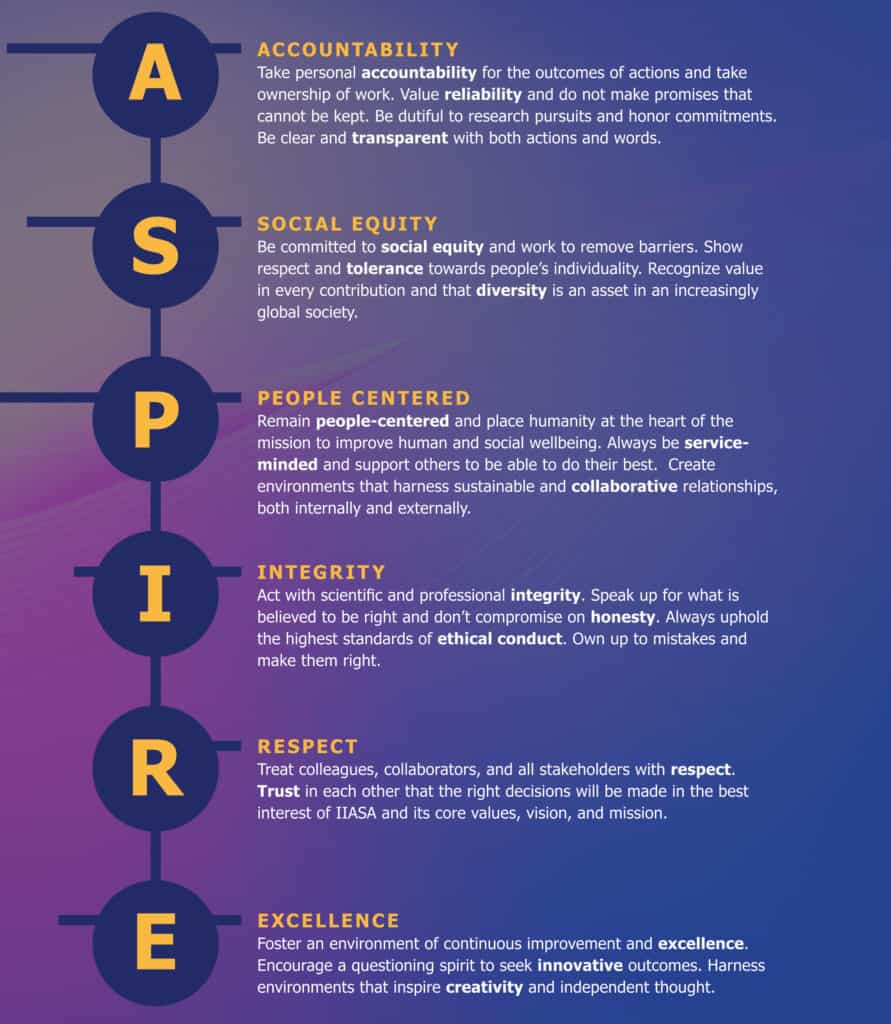 The ASPIRE values strengthen the mission of IIASA to create a culture of engagement and wellbeing by providing transparent guiding principles for staff members. In 2020, IIASA will promote initiatives to build a strongly engaged culture where these values are adopted and lived by all across the institute.
In 2019, IIASA continued to provide the service of the Institute Counselor, a Human Resource Consultant and Cognitive Behavior Therapist, as a work psychologist to provide training and counseling related to cultural and social diversity and work environment issues. The services of the Institute Counselor have been a well-used resource, appreciated by staff who can obtain confidential counsel. The Institute Counselor is an impartial, trusted individual who can offer IIASA staff support with the challenges and opportunities related to living and working in an international scientific environment. Twice yearly anonymized updates and statistics are provided to management in order to address any issues that may arise.
IIASA guidelines and regulations for good scientific practice
The IIASA guidelines and regulations for good scientific practice are intended to help avoid scientific misconduct, conflicts of interest and commitment as well as promoting quality science. The institute recognizes its responsibility to nurture an environment of mutual respect, tolerance, and ethical behavior according to the general principles outlined in these rules. During 2019, two cases were raised and are ongoing.
Contracts and administration
In 2019 IIASA introduced a new position to provide key researchers the ability to continue mentoring and contribute fundamental scientific work beyond retirement. The Emeritus Scholar scheme allows the encouragement of career development of early and mid-career scientists through targeted succession planning and the subsequent opening of career opportunities.
A new recruitment applicant tracking system, Prescreen was procured and prepared for implementation during 2019. The new system, which will become operational in 2020 will enable a more efficient recruitment process and an enhanced candidate experience.
Additionally, during 2019 staff contract administration at IIASA was simplified with the transition away from fixed-term to open-ended contracts. The change brought IIASA in line with Austrian employment law in this area.
Learning and Development
In 2019 various training opportunities were organized for IIASA staff. Among these opportunities, the communications team provided media training sessions for researchers and workshops on using social media. In addition, several staff members attended anti-corruption training with the International Anti-Corruption Academy in Laxenburg.
In 2020, IIASA will begin formulating institute wide and individual training plans for employees using information identified through a mixture of performance management tools, legal updates, and the mapping of training gaps.
Through compulsory training for IIASA managers in key areas such as people and financial management as well as in the field of governance, IIASA will make sure that the leadership of the institute is up to date and fully aware of their management obligations and responsibilities as leaders.
IIASA Code of Conduct
All IIASA staff must be treated equally and with respect, regardless of gender, race, religion or belief, nationality, ethnic or social origin, age, sexual orientation, marital status, or other aspects of personal status and no behavior can be tolerated at IIASA that constitutes harassment, sexual harassment, discrimination, bullying, retaliation, or any related acts.
The IIASA Code of Conduct Policy for a Professional Working Environment outlines the responsibilities of IIASA, staff, and management in these areas. Employees found to have breached these conditions are subject to disciplinary action in accordance with Article IX, Disciplinary Measures of the IIASA Staff Rules and Regulations.
In 2019 two incidents of misconduct were reported to the Human Resources department. One case was closed without any disciplinary action being taken and one case is ongoing.
In late 2019, IIASA developed and piloted an awareness raising session for supervisors entitled; Preventing, identifying, and responding to alleged harassment. Designed to ensure that supervisors are aware of their responsibilities, this session will be offered to all supervisors in 2020.